Description
Special Zombie Survival Kit Cigar Humidor edition of our best selling The 50 size ammo box humidor! It's patent pending and built using a .50 cal/5.56 size M2A1 ammunition can – just like the original Ammodor back in 1998. Holds 50-100 robusto size cigars and has plenty of room for sticks of all sizes. This model features additional top tray (NOT PICTURED)!
The limited edition Zombie Survival Cigar Humidor with Tray version includes the following special bonuses:
• Removable top tray handmade from 1/4″ Spanish Cedar
• Ammodor 5.56 bullet punch with keyring
• Exclusive zombie decal graphics
• Ammo Can Lock to protect your valuable smokes. Includes latch bar, padlock and 3 keys.


Includes our Deluxe Kit that provides a more efficient Deluxe Ammodor Humidifier and Ammodor Digital Hygrometer. Deluxe Kits are perfect for the cigar enthusiast that doesn't want to hassle with buying hardware separately -OR- the beginner who isn't sure how to get started.
All Ammodors and included hardware feature our Lifetime Warranty!



The 50 size Ammodor is built using a US Military .50 cal size ammunition can. They are genuine, Grade 1, military surplus ammo boxes that have been previously used by the men and women of our US Armed Forces.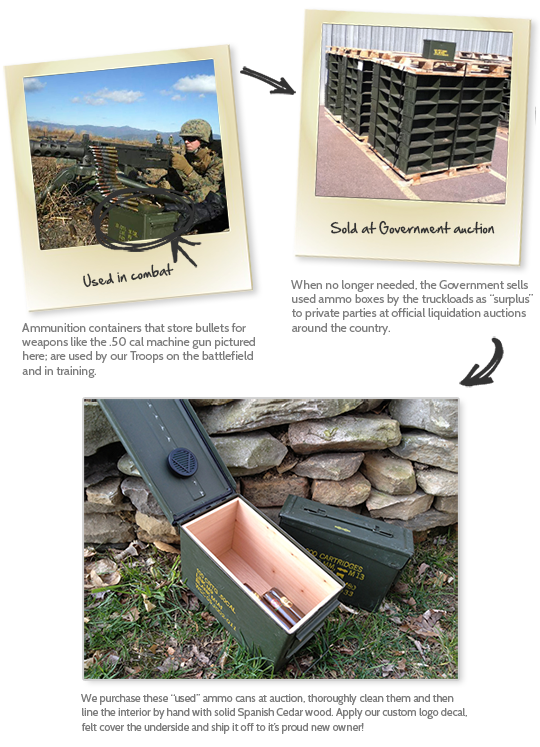 They are nearly indestructible and feature a secure flip open lid with a rubber seal around the rim – making Ammodors 100% waterproof and air-tight. There is no better container for a humidor!
The interior sides and bottom are lined with precision milled 1/4″ thick Spanish Cedar. It is the preferred lining for high-end humidors since it offers natural protection from tobacco worms and mold. Joints feature beautiful 45 degree angled cuts. The bottom exterior is lined with olive drab green felt to prevent your ammo box humidor from scratching any delicate table top surfaces. Additional top tray is handmade from 1/4″ solid wood Spanish Cedar.
All ammo cans are thoroughly cleaned and sanitized prior to becoming an Ammodor – they will not ruin your cigars with harmful odors! Learn more about our cleaning process.


Ammodors believes in giving back to the men and women that put their lives on the line to protect our Country and our freedom. We make ongoing product and monetary donations to non-profit organizations such as Hope For The Warriors®, USO, Humidors For Heroes and many others.
Every Ammodor is handcrafted by a Vietnam veteran right here in the good ole USA. Nearly all of our vendors are local Veteran owned small business. We have a "green" manufacturing process and nearly 100% of all waste from production is recycled or repurposed.


Please note: Ammodors are built by hand, made to order. Please allow 1-3 business days for production of your Ammodor prior to shipment.
Ammodors ammo can humidors are built using surplus ammo cans that have been proudly used by our Armed Forces. Due to this fact, the outside of the can may have minor scratches, dings or light exterior rust. Exterior markings and stencils will vary – writing may say .50 cal, 5.56 or 9mm. Frankly, we think that's what makes Ammodors so cool! Ammodors are tough, combat tested and look bad ass! If you're looking for a "pretty" little cigar humidor, look somewhere else.
BEWARE of cheap humidor knockoffs that have copied our products! Since 1998, Ammodors are the original ammo can humidor and are trademarked and patent pending. Imitators use inferior lumber instead of real Spanish Cedar, use cheap veneer instead of solid wood or have poor building techniques and crappy hardware. Learn more about what makes Ammodors different.